NYC Prepared for Detecting and Responding to Subway Shootings
They've been preparing for this for years, and SDS has been at the forefront with gunshot technology solutions
Seven years before what unfolded in on April 12, 2022 when a man bent on wreaking havoc shot at 10 people and injured 13 more on the N Train as it pulled into the 36th Street station, the same scenario played out on a New York City subway. But this time, it was only a drill.
NYC subway active shooter drill
In November 2015 the subway shooter drill was held in an unused portion of the NYC MTA station, where a ten-car subway train at the platform was the backdrop, with drill participants taking various roles in the subway car, including passengers and the two mock active shooters. The shooters carried AR-15 rifles and fired from both the subway platform and within the subway cars. Like most of these drills, the victim actors simulated very real injuries, including fake blood spatter and cries for help. The close conditions of the events taking place underground made for an eerily realistic imitation of the photos and videos shared on social media as the real incident unfolded on April 12.
Gunshot sensors on subway cars and platforms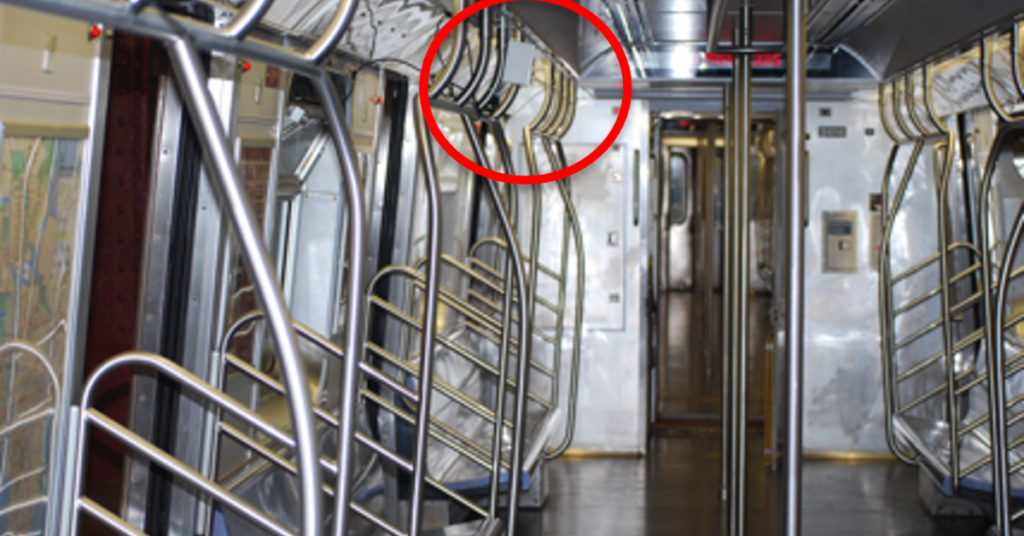 The Guardian Indoor Active Shooter Detection System is a system of indoor gunshot detection sensors that listen for the acoustic signature (the "bang") of a gunshot and the infrared sensors onboard the sensor capture the infrared heat signature (the "flash") to declare a gunshot. The sensor only requires a small amount of IR which is picked up even when the gun is pointed away from the sensor, fully occluded, meaning it does not require line-of-site to detect. Still, sparks, light and noise one would expect in the subway environment did not produce any false alerts during this day long exercise.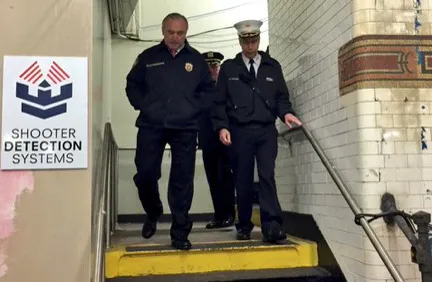 SDS placed gunshot sensors along the platform and a sensor in each subway car. The SDS Gateway and Situational Awareness systems were positioned in the command center, VIP viewing area, and overflow area at the street level, and was also available for viewing by remote monitoring sites set up throughout the exercise area. Guardian produced gunshot alerts for every shot fired during the exercise, showing shot location on the NYPD mobile command center map, and the Guardian Gateway sent SMS text messages to first responders during the event, including then Police Commissioner William Bratton, a major advocate for technology as a key means to reduce crime, and other police and fire officials.
No cellular coverage
The value the system and alerting capabilities represented to the event were immense, especially because there was almost no reliable cell phone coverage underground in the subway or on the platform. Without the Guardian system as the primary source of information, the ability to effectively communicate critical shot location information would have been limited to only those who were physically able to escape the shooter and safely exit the facility.
Self-monitored systems
All too often when a shooting incident is examined after-the-fact, technology failures are exposed, making self-monitoring features in sensors and camera systems essential. The Guardian System is fully supervised, with regular heartbeat checks and instant alerting capabilities for degraded or offline sensor conditions, allowing security teams to proactively address issues before an emergency might publicly reveal them.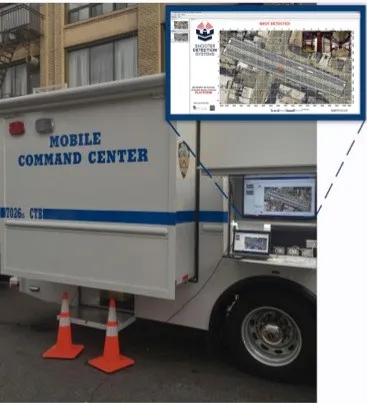 When gunshot detection and video systems are integrated, shot detections can automate the pull of camera feeds directly to the shooting incident and bookmark alarms and recorded video footage for an additional layer of situational awareness and intelligence that can help stop a perpetrator before he escapes. As the incident unfolded in real life on April 12, reports were stating that the cameras in the subway station weren't working. It turns out, as CBS reported, that the cameras were working, but it was the connection that sends the video feed to the NYPD and the MTA that was out of order. Cloud-based video systems like those offered by OpenEye and other SDS Technology Partners also have system health monitoring features that alert users to offline cameras, hard-drive failures, or exceeded storage levels. In a scenario where this type of system was deployed in the subway, connection issues could have been reported and resolved before the incident, allowing for an automated "eyes on" the incident and more importantly the perpetrator, helping police identify and apprehend the suspect much faster.
Radio integration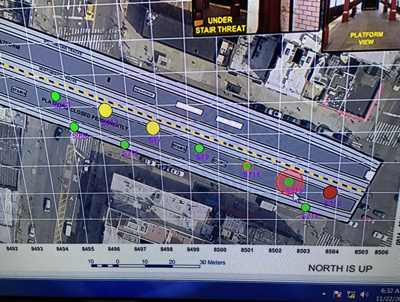 Reliance on any human involvement in the alerting process is bound to cause delays and failures in the face of a terrifying event like a shooting, making emergency automation with gunshot detection even more important. The New York Times reported that a uniformed officer who was approaching the scene told passengers that his radio was not working and instructed them to call 911. SDS has customers using integration to trigger public address systems, emergency lighting, onsite alarms, and handheld digital radio that a shooting is in progress. In this scenario, emergency personnel would have already been alerted to the incident, allowing the officer to attend to other more pressing matters at hand while passengers could focus on evacuating instead of calling 911.
The New York City Police Department, New York Fire Department, the Department of Homeland Security, and other agencies have been training for years to respond to disastrous events the general population could never imagine happening to them on any given day. SDS has participated in many of these response drills alongside DHS, inserting gunshot detection and alerting technology into scenarios like a school shooting, a targeted attack on a religious organization, an airport shooting, and a bombing/shooter attack on Fenway Park in Boston.
We must step up and share information to raise awareness
There is a delicate balance between performing these drills and keeping a close hold on the scenario play-by-play for fear of giving the bad actors too much insight into law enforcement response tactics. There is a similar hesitation among SDS customers to publicly speak about their adoption of gunshot detection. SDS has some of the largest globally recognized name brands in retail, banking, energy, and other sectors as customers, and those unwilling to share cite employee fears or having someone come in and "test" the system in a real shooting event. It has been SDS' experience that employees are grateful to know that their employer cares enough about them to install such measures for their safety, and customers that choose gunshot detection should take a stand and speak out about their forward-thinking approach to securing their people and assets.
It is a tragedy that real life events must occur before real solutions are widely adopted, and even more tragic that these real-life scenarios are never a surprise to authorities and governing bodies that oversee law enforcement training and response. They have trained to this scenario, and seven years later it has been realized in the very same city subway system. Hopefully SDS and our partners can raise awareness to the point where public agencies will start to prioritize robust, intelligent sensor driven systems like gunshot detection to help automate alerting and response to shooting incidents and ultimately save lives in these events.